Granite Countertop Collection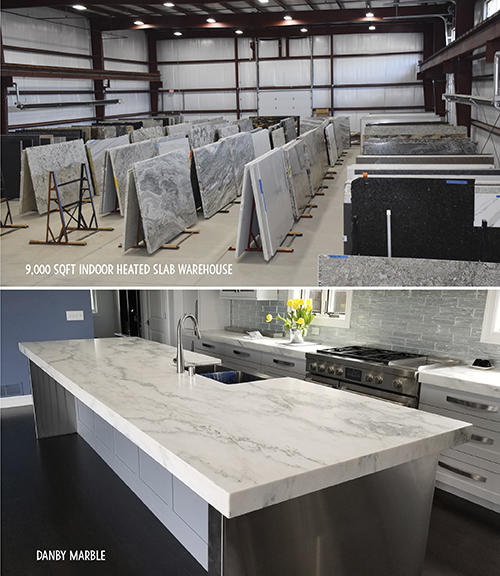 For granite countertops, Halquist Stone is Greater Milwaukee's premier choice. Choosing the proper material for a countertop is a big decision and requires that many considerations be taken into account. Appearance, strength, durability, sustainability and of course - price are key factors in making a choice that will leave the consumer satisfied and ultimately proud. Serving Milwaukee, Waukesha, Ozaukee, Washington, Racine and Kenosha counties.
ALL-NEW SLAB WAREHOUSE
On-site in Sussex we have our showroom, fabrication facility and now our all-new heated indoor slab warehouse. We stock nearly 800 slabs with new material arriving continuously. Stop by our showroom and one of our team members will assist you in finding the perfect material for your project..plus you can pick your own slabs in the warehouse!
You need a professional who knows what is required for installation, is familiar with granite and how it works. They should also know how to gather the information and measurements to fabricate the piece correctly. Halquist owns and operates nine quarries throughout Wisconsin. Our expertise is in processing raw materials and creating a product to a customer's specifications and imagination. Plus, all countertops are installed by Halquist employees to ensure a tight fit and quality control.
WHEN CONSIDERING GRANITE COUNTERTOPS, ASK YOURSELF:
Do they measure using electronic digital equipment? This guarantees an exact measurement. This is important because you want the granite to contour to the wall. If the vendor says that you have to have back splash, this is a good sign that you won't have a tight fit.
Does their low price include up to four holes drilled for a faucet?
Does their price include digital layout on actual slab choice?
Does their price include installation?
Do they have 92 years of experience fabricating natural stone?
When you compare apples to apples, our prices are comparable to the so-called discounters. Don't let a low advertised price cause you to make an investment you will regret the day it's installed.
Anyone can shout price, but very few can deliver on a reputation that's been solid as a rock for 90 years like Halquist Stone.
Halquist Stone is conveniently located a short drive from Milwaukee and around the corner from Pewaukee, Delafield, Brookfield and Waukesha.