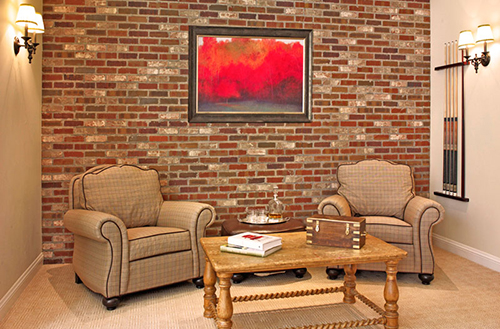 Everyone knows that brick is timeless and durable...but more importantly it's beautiful. Halquist Stone is dedicated to providing quality caly brick products with an inspiring choice of fashionable colors, textures and sizes to compliment today's architectural designs. Bricks are available in a wide range of sizes in addition to thin brick.

Our brick lines include: BrickCraft, Continental Brick, Endicott Brick, Henry Brick, McAvoy Brick, Old Carolina Brick, Pine Hall Brick, Statesville Brick, Summit Brick and Taylor Clay Brick.
WHY CONSIDER BRICK...
LONGEVITY - Brick's estimated lifespan is roughly 100 years or more, and that's very conservative considering brick structures like the Roman aqueducts have been around for over 1,000 years.
SAVE ON MAINTENANCE - Brick never needs painting. It never rots, fades, peels or dents. Just think of the savings in paint, labor and head-aches this can mean.
SAVE ON FUEL BILLS - Brick is a proven insulator. It is a slow to lose or absorb heat, which reduces the load on your heating and cooling system. A brick home stays warmwhen it's cool and cool when it's warm.
RECYCLABLE - Brick is completely recyclable. Old bricks build new buildings. Crushed brick pave streets, or provide natural mulch.
NATURAL - Brick's ingredients are everywhere. It's made of clay and shale, which are among the most abundant materials on the planet.
SAFETY - Brick provides the highest degree of wall strength and protection against fire, extreme wind and airborne debris. Remember the 3 little pigs?
SAVE ON INSURANCE - Because brick is a fireproof building material, many insurance companies offer reduced rates. Ask your agent to compute your potential savings with a brick home.